The MK8-3500
Proven technology, redefined
The now 4th generation of our universal carrier platforms combines proven MikroKopter control electronics with a new concept: More power, more flexibility and more security.

The full carbon frame of the MK8 is easy to disassemble, easy to transport and offers an unprecedented stability. 8 powerful brushless motors guarantee flight times of nearly 40 minutes – of course with full redundancy to ensure maximum safety for equipment and pilots.
What is a redundant flight system?
Redundancy means for the MK8-3500 that in case of a failure (for example, Lipo, sensor, motor, propeller, flight control, ...) during operation, the copter does not crash. For this reason the MK8-3500 is designed as Oktokopter.

The flight and navigation electronics is installed twice. In case of failure the system automatically switches to the reserve electronics. In this way we even meet the strict requirements of the Austrian Air Traffic Control "Austro Control".
The MK8-3500 Standard Full Package starts at 13.900 EUR (incl. VAT)
We put together this full package:
MK8-3500 Standard incl. high power batteries
SLR1 camera mount
specially customized Graupner MC26 HoTT ground station incl. transmitter desk
MK 'Koptertool' software package for waypoint-based flight planning
Separated analogue 5.8Ghz Video RX / TX solution for live image transmission incl. Monitor and battery
Range Extender for wireless telemetry transfer between PC / tablet and the drone
Graupner Dual Battery Charger
more security through redundancy
extensive, several hours flight lesson within the company
MK8-3500 Standalone (only copter & transportbox) starts at 11.900 EUR (incl. VAT)
Our Multikopter solutions conforming to the statutory requirements of the Act on radio equipment and telecommunications terminal equipment (R & TTE) were by the Federal Network Agency (BNetzA) regarding successfully checked - with the result.:

The candidate corresponded - with all components (complete avionics, 5.8GHz video transmission system, RC-transmitter / receiver units) - the requirements placed on it!
 
Technical specifications
model designation
MK8-3500 Standard
base weight
incl. 2 batteries
weight incl. 2 batteries & SLR1 gimbal
---
weight  incl. 4 batteries
weight  incl. 4 batteries & SLR2 Gimbal
4350g
4595g
---
5652g
5897g
max. payload with 2 Lipos
max. payload with 4 Lipos
3500g
2000g
Drive
8 single driven brushless motors (Type: MK4008/350) (with 16" CFK propellers)
Dimensions MK8-3500
Dimensions transport case
aprox. 1085mm x 1160mm x 450mm
aprox. 700mm x 600mm x 400mm
Flight time
up to 40 minutes (incl. Gimbal & 4 batteries)
Range
Depending on the used transmitter / receiver
(Range Graupner MX-20/MC-32 incl. receiver GR-16 = 4km)
Altitude
up to 5000m above sea level
Operating temperature range
-5°C to +40°C
Batteries loses performance in cold weather performance.
The flight time can be reduced accordingly.
Recommended max. Wind speed
up to 3 Beaufort
Copter is airworthy up to 6 Beaufort (requires enhanced flight skills)
camera mount
MK HiSight SLR1, 2 axis (Nick & Roll), Servogimbal
battery
High current lithium polymer battery, 4500mAh, 6S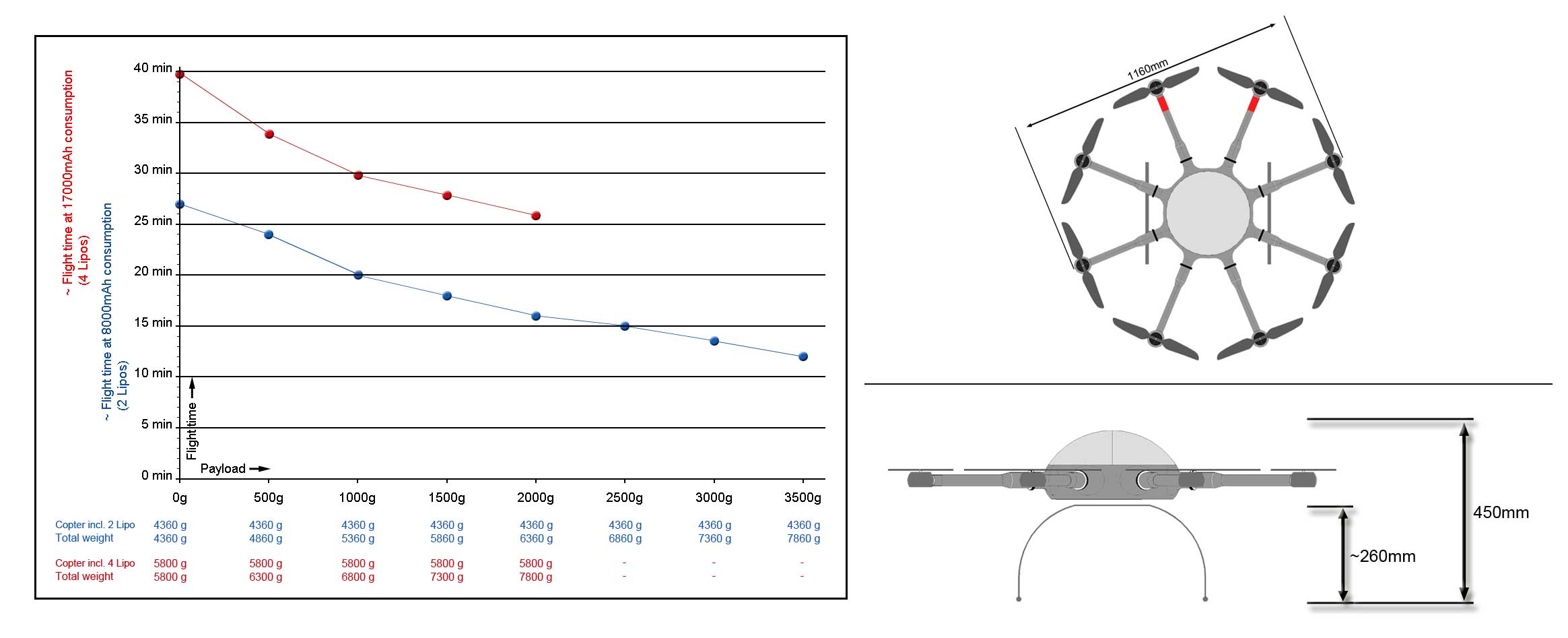 ---