Impressive photos from unusual angles
Aerial photographs of wild animals are usually created by airplanes or helicopters, but they are expensive, loud and too big.
With the
MikroKopter
shootings from a low altitude is possible without scaring the animals. The wildlife photographer Benny Rebel demonstrates this very impressive during a shooting in Africa. Instead of escaping, the curious animals came closer to observe the "buzzing"
MikroKopter
. Benny Rebel created unique and stunning shots of fascinating wildlife.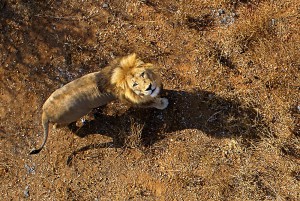 The viewer
of the images
should
ask himself:
"Where
the photographer
was standing
?
?
"
In the following video the work of award-winning wildlife photographers Benny Rebel is shown. See how the
MikroKopter
was used for these recordings.
The
MikroKopter
is ideal for photographs of events and landscape photography as well. It does not matter whether it is uesd in the countryside or in the mountains.